Background
After the end of the Nez Perce War in the 1870s, many of the horses belonging to the Nez Perce were confiscated by the U.S. Army and sold off or killed. The Nez Perce people that survived the war were forced to settle in reservations and coerced to become farmers rather than horse breeders. They were allowed to keep few horses, and were forced by the authorities to mate their stallions with Quarter Horse mares to create horses deemed more suitable for agriculture.
The Nez Perce horse breeding program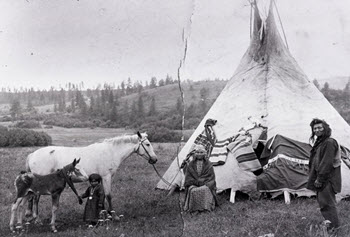 In 1994, the Nez Perce tribe in Idaho started a horse breeding program with the idea of crossbreeding Appaloosa horses with a Central Asian breed called Akhal-Teke to produce a new breed: The Nez Perce Horse.
Based in Lapwai, Idaho, the program was, and is, aiming to help restore the traditional horse breeding culture of the Nez Perce.
The start of the Nez Perce horse breeding program was jointly financed by the Nez Perce tribe, the United States Department of Health and Human Services, and a nonprofit called The First Nations Development Institute.
The Nez Perce Horse
The Nez Perce Horse is a spotted horse breed derived from old-line Appaloosa (the Wallowa herd) and Central-Asians horse belonging to the Akhal-Teke breed.
The formal registry for these horses is the Nez Perce Horse Registry (NPHR).
Appearance
A typical Nez Perce horse is buckskin or palmino, with Appaloosa characteristic such as mottled skin and a blanket and/or spotting.
Compared to the Quarter Horses that were bred into the Appaloosa breed from the 1870s and onward, the Nez Perce is a longer and leaner horse, with a longer back and more narrow shoulders. All in all, it is often described as looking like a "lean runner".
Use
The Nez Perce horse is a good long-distance horse, and many Nez Perce horse have performed admirably in endurance races. The Nez Perce horses are often gaited, with a fast and smooth running walk that makes them comfortable to ride.
Quite a few of the Nez Perce horses are also good jumpers.